Debts… – inspiration on a Tuesday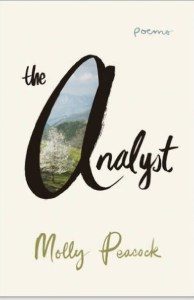 I picked up a copy of Molly Peacock's latest collection, The Analyst, the other day, after seeing a particularly tiresome movie. I haven't delved into the collection yet, I'm reading The Silence of the Girls by Pat Barker – brilliant, don't miss reading it! I'm also making muslins (note the plural!) of the dress I'm planning to wear to Melbourne Frocktails – love the Patricia Rose dress pattern from Style Arc, a Melbourne based Indie pattern company – simple, stylish and a pleasure to wear. It's led me to a whole new sewing plan – but more of that on Fern_and_Thread later this week.
Back to the writing exercise. The very title of Peacock's collection made me think about the various debts we owe to people, places – even objects. So, use this as your writing inspiration – to whom or what do you own a debt.
Happy writing.