Star
When Star's mum, Nell, begins to fall in love with Charlie and he moves in properly, Star isn't sure how she feels about it.
Mimi and the Blue Slave
When grief strikes, you need an ally. For Mimi, that ally is Ableth, the wildly disobedient blue slave.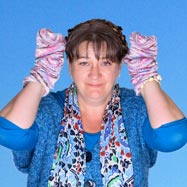 Catherine Bateson is a poet and writer for young adults and younger readers.
She lives in Kallista with her husband, a rescue dog called Winter,  a wide assortment of tropical fish and whichever children have moved back home as well as her octogenarian mother.
---
Latest News
The Hodgepodge, a writer's journal
1. World building – both for what to do and what not to do. Morgenstern's istorical fantasy world is  rich with carefully conceived elements. As a young adult reader, I know I would have fallen for the circus completely, imagined myself one of the performers and created my own story, using Morgenstern's circus as my […]

Since the publication of her first book of short stories, Fen, 2016,  Johnson has consistently experimented with form, genre and the foundation of her narratives. The standout story in that collection is 'Fen' which explores teenage anorexia through a surreal, folkloric lens. Everything Under, 2018 (shortlisted for the Man Booker) is a contemporary re-telling of the […]
---
Star is an endearing first person narrator who will have the reader cheering for good things to happen to her. At times she is, as her mother accuses, self centred, but this adds to the sense of realism...

Read more »

The rivalry between Sydney and Melbourne is explored and gently rocked. Catherine Bateson points out that home is where family and friends are, that the rest is just bonus...

Read more »