Creating Stories from Objects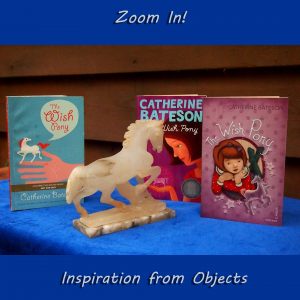 My novel, The Wish Pony, was inspired by two things – the first was the well known  rhyme 'If wishes were horses, beggars would ride' and the second was a marble figurine of a horse owned by my step-grandmother.
The rebuttal for many a child's wish is that rhyme. I'm sure I had it said to me and I know the father of my two children used to say it regularly to them. Musing on this one day – and thinking what a slap in the face that rebuttal is when the wisher has only spoken aloud a small yearning to the universe – I wondered what it would be like to have a wish pony. Nothing as big as a horse, just a pony, who just possibly might have the magic to grant a wish.
My step-grandmother had cabinets of wonderful objects – they came from different parts of the world and some were valuable, others were not. A little black penguin I made her from something like polymer clay ended up there, plumb next to Venetian ruby glass and old Chinese figurines. On one of the top shelves there was a marble horse.
For a couple of summer holidays I was sent to stay with my grandfather and step-grandmother and the contents of the cabinets – their sense of order, beauty and story – fascinated me. In my home, everything was higgledy-piggledy and you couldn't fall in love with anything. My mother held on to things only when they had sentimental value. Everything else could be sold or given away. I lost a clock I loved, a macabre tray with real butterflies trapped under the glass and a Japanese doll in a wooden box with a set of five wigs. The permanence of my step-grandmother's objects in their cabinets was doubly special to me.
When I came to think about the wish pony, I thought back to that marble horse. I remembered it being smaller and a little less noble to the point that when I saw the horse again, it's actual physical presence surprised me! The cabinets and their objects I gave to Magda, my mentor figure in The Wish Pony. A person for whom impermanence was a way of life, she nonetheless created stability wherever she was needed.
So, when you're looking at ideas to inspire your writing, do remember the small things with which we surround ourselves – they may contain big ideas!
By the way, it's Continuum 15: Other Worlds in a week's time! Who else is excited? The programme looks great and there are two guest speakers – Kate Elliott and Ken Liu, both American authors. It should be the usual informative and inspirational long weekend. I'm looking forward to it.