Making a Creative Life
Recently a photo of a semi-frozen Scottish loch popped up on my Insta post with a small caption about living more simply and pulling back from commitments. The  photograph noted that she and her partner had had a difficult couple of years, so in 2018, they were both trying to take Fridays off. Fridays were going to be a time of regrouping, recharging and rediscovering the joy in the ordinary – like swimming in a loch in January.
Most of January The Accountant and I swim in the Belgrave outdoor pool (and it's heated!) but I appreciated the post's reminder that time off is constructive. Life's not all about pushing harder for more efficiency. It's not about besting your personal best or surmounting challenge after challenge. It can also be about making time, things and connections.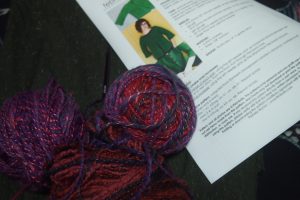 So, today I bring you home-made things. This is yarn I spun from Charly McCafferty's hand-dyed fibre . It's been plyed with something else – I'm not sure what all of it's been plyed with but some is definitely silk! I have several balls of this – the original fibre came from one of Charly's clubs and I imagine it's about 750g or so – but that's a guess. I'm hoping I'll have enough to make the February Lady cardigan, pictured. Acting as a backdrop to the yarn and pattern is a peak of the Maker's Atelier pencil skirt in a fabric I bought in Glasgow. The fabric is a gorgeous green shot through with flecks of other colours. I loved it as soon as I saw it and stuffed into my luggage to make a skirt I knew I'd wear a lot and which would always remind me of Glasgow – a magic holiday. The pattern is actually from the Maker's Atelier Essential Collection – I bought this book determined to slow my sewing down and really think about what I was making. So far I've made the pencil skirt and the tie-front blouse – and I love both patterns. Simply but effective – perfect!
In an attempt not to lose the labels on fibre and fleeces and not to lose track of what I make this year, I'm recording my makes in a journal I've called The Makery. My life this year is being recorded in many blank books!