From Ballads to Gaslight
In terms of sheer value for money, Continuum Convention is one of the most information-packed opportunities for writers and readers, providing you're interested in genre fiction. From Friday evening until Monday morning there are panels exploring different topics – not all writing topics. There are also panel sessions on Dr. Who and other t.v. series, comic and video games. It's fandom in all its diversity.
The first session I attended was 'The Romantic Beginnings of Fantasy', a talk by Janeen Webb. She had just begun reciting 'Thomas the Rhymer' when I walked into the session – an impressive feat of memorising. This linked into her introduction which talked about how the Romantic period reintroduced folk stories and folk art to the world of art and culture.
From there, she discussed the early fantasy writers, including Coleridge and, in the US, Hawthorne and Poe. Then she talked about the emergence of modern fantasy with writers such as William Morris, a member of the Pre-Raphaelites, who also worked in the visual arts. He was an indefatigable worker, actually, who made glorious textiles using medieval methods. He also established what would now be called an indie publishing company, the Kelmscott press. I don't know when he slept!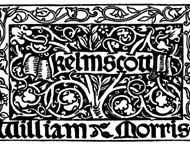 One of the hallmarks of Romanticism  – and now of fantasy – is the idea of place as a character – something to bear in mind if you are thinking of writing fantasy. And, of course, as soon as we think of the Gothic, we think of the trope of the haunted and haunting landscape.
I was particularly interested in what Janeen had to say about the Child and Border ballads – I've been a fan of these early examples of folk tale and regularly listen to Anais Mitchell and Jefferson Hamer's version of the Childe Ballads. These folk stories give us some of the fantasy tropes still seen today and I think a closer examination of them would lead to an interesting young adult novel. I've earmarked that for future writing.
Given that the guest of honour, Seanan McGuire writes urban fantasy, some of which features a half-fae private investigator, it was appropriate that there was a panel session on 'Fae in the City'. One of the main topics discussed was the difficulty of dealing with this kind fantasy in the Australian setting. Can we just transplant European fairies into our landscape? (Although, from memory, no one asked Seanan McGuire about her European fae in the Northern American setting – curious because this question is relevant to any colonised country.)
Appropriation has become an issue in fiction – a very topical issue and for very good reasons. We cannot simply appropriate indigenous mythology in the 21st century. There are fine Australian indigenous writers out there and their myths are their territory. At the same time how do we, as Australian writers, utilise our landscape in fantasy stories without acknowledging the original custodians of this land? The question was approached but never answered – it's simply too complex. Many writers, of course, return to their Anglo Celtic roots, using a mythology that was certainly brought to this country and returning to a landscape, not our own, but for many of us, our own imagined 'home'.
I'm interested in gaslight fantasy – this is fantasy set in the Victorian or Edwardian era and it's a sub genre of urban fantasy, usually, as most of gaslight fantasy is set in the cities of Europe. (The urban setting being a central trope to urban fantasy, or course.) I'd like to see some gaslight fantasy set in 19th century Australia – I reckon this is an unexplored possibility! It neatly evades the problem of appropriation and it has intriguing research opportunities. It might not be able to fulfil one of the important tropes of urban fantasy which is that your central character must default to the real world until the end of the narrative when they may be able to choose which world to inhabit – but even this could into play with some imagination. I'm considering this as my not-quite-next project!
Save
Save