Star
When Star's mum, Nell, begins to fall in love with Charlie and he moves in properly, Star isn't sure how she feels about it.
Mimi and the Blue Slave
When grief strikes, you need an ally. For Mimi, that ally is Ableth, the wildly disobedient blue slave.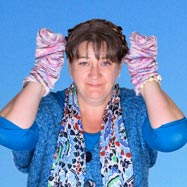 Catherine Bateson is a poet and writer for young adults and younger readers.
She lives in Belgrave with the Accountant, a golden lab, a wide assortment of tropical fish and whichever children have moved back home.
---
Latest News
The Hodgepodge, a writer's journal
WinterAnd I'm off to the library to put in my orders! The Silence of the Girls by Pat Barker Remembered by Yvonne Battle-Felton My Sister, the Serial Killer Oyinkan Braithwaite The Pisces Melissa Broder Milkman Anna Burns Freshwater Akwaeke Emezi Ordinary People Diana Evans Swan Song Kelleigh Greenberg-Jephcott An American Marriage Tayari Jones Number One […]

Describing landscapes – urban or rural – is often a challenge for new writers. How to describe the landscape you know well, whether imagined or real,  so successfully that your reader can step into it? Let's look at three easy methods you can use to amp up your descriptions of place.
---
Star is an endearing first person narrator who will have the reader cheering for good things to happen to her. At times she is, as her mother accuses, self centred, but this adds to the sense of realism...

Read more »

The rivalry between Sydney and Melbourne is explored and gently rocked. Catherine Bateson points out that home is where family and friends are, that the rest is just bonus...

Read more »