The Night Circus in 5 Bites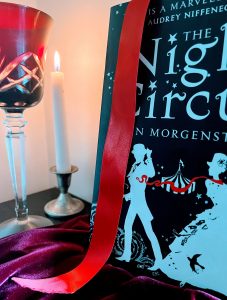 1. World building – both for what to do and what not to do. Morgenstern's istorical fantasy world is  rich with carefully conceived elements. As a young adult reader, I know I would have fallen for the circus completely, imagined myself one of the performers and created my own story, using Morgenstern's circus as my own backdrop. She's created such an immersive world2. The fantasy rules appear to be consistent – certainly nothing hiccuped for me. It's not easy when you are creating such an intricate world of magic to stay within your own boundaries but Morgenstern manages this.3. The story isn't particularly new – two rival magicians pitting their most adept students against each other (for, apparently, centuries) but there is still something compelling about how this power relationship unfolds and the differences between the way the magicians teach their young pupils.
4. While the love story didn't always feel real to me, the way Celia and Marco build the magic in the circus as part of their apprenticeship and, in the end, as a kind of ongoing love letter was beautifully realised.
5. The other characters – the sisters, Tara and Lainie, Chandresh,  Poppet and Widget, Tsukiko, the contortionist and, of course, Bailey – who runs away to join the circus – and Isabel. World building – and this is a enchanting world – is never enough by itself. It's an empty stage. But these characters move across the stage, playing out their own charming, idiosyncratic parts.
Reading this novel was akin to being transported back to the days when I breathlessly read books like Marion Zimmer Bradley's Mists of Avalon, Anne McCafferty's Dragons of Pern series and Ursula Le Guin's Earthsea books. I left the real world behind and was set on a new, dreaming course. And who doesn't need that from time to time?