Staying the distance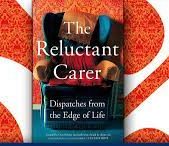 The route to certain books is serendipitous. At TAFE we've set Kate Spicer's beautifully crafted memoir, Lost Dog; a Love Story as a set text for Write Creative Nonfiction. This is the first year for ages that we've set a text, but the book is so well-written and we thought the story would appeal to a diverse range of students. It's a good thing having the one text to refer to and which can inspire hands on writing exercises.
So, because of all that, I ended up following Kate Spicer on insta. As you do.
One of her stories mentioned the forthcoming publication of Dispatches from the Edge of Life by The Reluctant Carer, an anonymous blogger who kept an hilarious and moving blog about looking after his elderly parents. Uncharacteristically I pre-ordered a copy. I've read it in gulpfuls over the past few days – days, which I'd have to say have tested my carer's patience.
I'd just left a pilates class when my husband rang. He was at the vet, having found a chewed hearing aid on the lounge room floor. What we didn't know was whether or not the hearing aid had ever contained a battery. And the hearing aid owner had no idea, either. The chewing culprit wasn't saying anything. She just wagged her tail.
The precautionary x-ray showed no battery present. Thank heavens.
The household volume has increased, of course. An appointment for a new hearing aid has been made. Louise will get two, but only wear one, probably. I don't know why. Some things are not subject to rational scrutiny. In the meantime, we've been made very aware of how important television is.
Into the middle of this fraught and sulky week, I read Dispatches from the Edge of Life, laughed out loud, sometimes wept quietly and, overwhelmingly, felt grateful that someone was writing about the hard work of all this with such humour, honesty and compassion.
My own compassion is in danger of running out – but I'm sure the Reluctant Carer felt that on many occasions. I dole mine out and hope it will last the distance.
'When you are unambiguously reminded that the world and those with whom we share it are, as ever, out of our control, all that's left to steer, and all there ever was to change, is you.' The Reluctant Carer, Dispatches from the Edge of Life.