Random thoughts from an anxious week
Rosalie Gasciogne's assemblages are like flash fictions or poems – the window frames with corrugated iron 'curtains' hint of the yellowing paddocks they might look out on and the people looking – a young woman drying dishes at the sink or hushing a baby, a farmer stroking his stubbled chin, thinking of rain.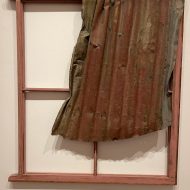 The scallops shell assemblages were among my favourites at the recent exhibition at the NGV Ian Potter. Would I be a calmer person if I owned one? I think so.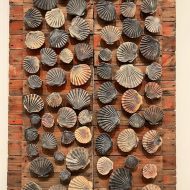 I loved Lorraine Connelly-Northey's work, too – the possum cloaks constructed from rusty wire and iron are impressive but the long cabinet of small and intimate baskets won my heart. These are also made from wire and other found objects and sometimes decorated with feathers.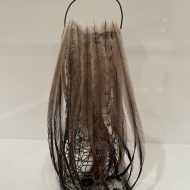 We have gone from obsessively tracking COVID to equally obsessively updating the Russian/Ukraine situation. I hope Frank Zappa was right when he declared that there's just too much real estate involved for there to ever be a nuclear war.
And just thinking about Frank Zappa reminds me of 'Camarilla Brillo' with her rancid poncho. I bought the latest Rowan mag and was delighted to see so many patterns for iterations of the poncho. I tried hard to interest the members of my household in the revelation that ponchos might become winter staples in 2022 but The Retired Accountant and The Nonagenarian couldn't be less interested. I'm planning to knit one.
Knitting is a calming activity. I can feel my brain switch into idle when I merely glance at my knitting. That is, until Kate Davies' wonderful pattern, Myrtle. Which I am still going to master. I've frogged it three times and pulled out down to the ribbing twice. The first time I was well on the way (decided to start straight away with the scallops and ditch the ribbing) and realised I'd twisted the expletive deleted join in the round. The second time I cast on according to the pattern's number of stitches, rather than my swatch. The third time I managed to twist the join AGAIN.  The fourth time I decided to just do the expletive deleted ribbing, so I did – and then had to pull out all the little scallops because I'd got distracted during a Metro situation (took me two and half hours to get home). The fifth time I pulled out scallops was because I'd missed a dropped stitch. I am not defeated. I want this too much. I'm going to sit on our back deck in bright light and have another go at the pesky scallops.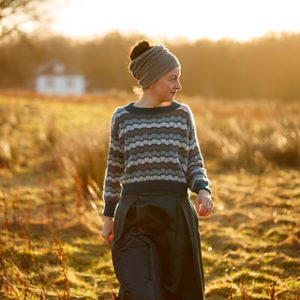 Taking a deep breath for the coming week.
Peace begins at home.
Hold fast to love.