The months whizzing by
I had my first photoshop lesson this afternoon. This is a photo I took at Healesville Sanctuary back in April or May. I was captivated by the wood swallows – such beautiful little birds. Actually, I'm captivated by Healesville Sanctuary! I was quite envious when Keith took our last lot of couchsurfers there without me.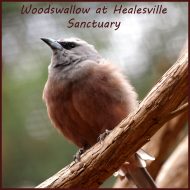 It feels as though it's been a huge two months and it has been. First of all there was the wonderful news that I had won the Woorilla Poetry Prize – a real honour. Then there was the judging of the Dorothea Mackellar Poetry Prize, Primary section which took a lot of time, energy and thought. I fly to Gunnedah next week for the awards ceremony. And – still on the poetry theme – I returned to teaching at Blackburn South on Thursday. This term we are looking at the work of Kathleen Jamie, a Scottish poet and essayist. She's a wonderful writer and I'm looking forward to the close readings of her work we will be doing over the short term.
I've been working my way through Julia Cameron's Walking in the World – the kind of exercise I set myself when I'm a little depressed – or even just flat. It amuses me how grumpy I get with Cameron, often before reluctantly admitting that she's right – or on the right track at least. I sit reading the book – which I chose to follow! – muttering to myself in a curmudgeonly way. But, I do keep going with it, so it's either masochism or there's something in it and I suspect it's the latter. Is it making me more creative? I don't think so – but I'm hardly the audience Cameron is aiming for, after all.
What has it done, then? Well, it's taking me back to certain things I do manage to forget by this time in the year – simple things like gratitude, taking your time with projects, examining the way you work and where you work and thinking about how you can best foster and nurture your own projects. I spend quite a lot of my time nurturing other people's writing, so it's good to turn my attention on my own work.
I'm also reading some craft books and some books whose craft, or breadth, or ideas intrigue me. I was alerted to The Sparsholt Affair by the Slate Audio Book Club, now sadly in hiatus. (What does that even mean? I'm so crestfallen – the book club has fueled my reading ever since I discovered the podcast.)
Everyone on the book club spoke about Hollinghurst's elegant writing style and I am loving this novel. The careful, euphemistic language in which Freddie Green's memoir, which occupies the first part of the novel, is written evokes a time and place beautifully. Freddie's sexual repression is tenderly comic as he recounts the adulation inspired by Sparsholt; 'I was abashed to think that in my room, hidden among jerseys and vests, there was a drawing of him in the nude. It would be difficult now to deal with him as if unaware of how other people desired him or of how they would envy our spending the night together.' (The two men are on fire-watch duty together.)
The book leaps from Freddie Green's memoir of Sparsholt to 1965. Sparsholt is married to Connie, the finance we have already seen in Part 1. He's father to a son and his family is holidaying in Cornwall with the son's exchange friend from France. Another couple, the Haxby's are also in Cornwall and there's definite tension between the two couples. The narration changes from first person and the prose style is more contemporary and straightforward. And that's where I'm up to. More later.