Tea and Empathy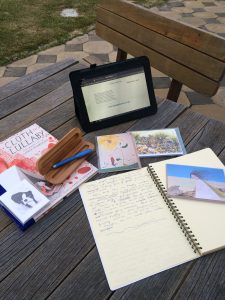 I meet a writer-visual artist friend of mine and over a lengthy cup of chai tea we discuss being artists, the perils and the joys. I think about this so much – probably too much. In my darkest moments I'm all about the perils – the lack of economic certainty and respect, the self-doubt and isolation and that constant peril partner – anxiety – the fear-dog  snapping at every step.
But on days like today – the sun and people out and about, a dappled courtyard and a pot of chai to share with a friend, it's mainly the joy we talk about. She's cracked a novel she's been writing for sometime, I've been happy with some new poetry I've written. The light is benign and the day feels full of possibility.
We also discussed the need to honour your talent – this can be difficult in our self-deprecating society. Add to that the current indifference to or plain ignorance about the arts and its challenging to stay convinced about the worth of your work. It's too easy to dismiss it, as though you're committing one of the 7 Deadly Sins expressing a quiet pride in what you do. I actually say 'I'm a good cook' more easily than I say, 'I'm a good writer' – what is that about? I will say of my own work, 'that's a good poem' or, 'that's a good novel' – but it's almost as though I believe the one I've referred to was some kind of fluke.
Grace Paley wrote a poem about this – and in my darkest hours I vow to perfect all sorts of different pies that will attract a diverse and goddamn grateful audience!
But today I realise happily that NaNoWriMo is only a couple of weeks away, my new novel is out in January, I've a brand new poetry notebook – and that I have friends in this crazy, wonderful game of art.
Today's all about the joy and the fear-dog dreams  safely under the table, twitching in her sleep as she chases fleet rabbits she'll never catch.
---
2 Responses